StarKnight's In Action (17 May 98)
After Action Report (AAR): On 17 May 98, Star, Algy, Wizz, Spirit, Bswam, and other StarKnights were in action all over the Az Theater of Operations. In one B17 run , Algy scored over 12,000 points due to precision bombing and good gunning by the crew. In another action, the StarKnights decided to pork Bar, but met heavy Resistance. Unfortunately both Star and Bswam's planes went down... pictures and cam files follow:
13 June 98 Action (Hvy Fiter Raids on Twi)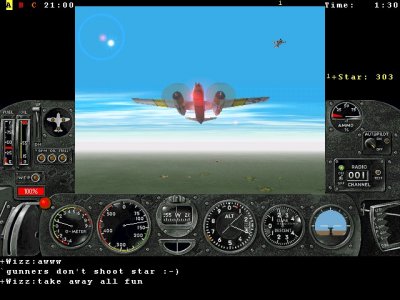 General Order # 3 - Don't shoot the General:
17 May 98 Star and Swampy take a couple of gunned A26s to liberate Bar with total StarKnight Crews aboard.
"The Bastids Got Star!"

17 May 98 "Um... Star? U Copy? Star... ? ...ohoh..." Czs get lucky over Bar.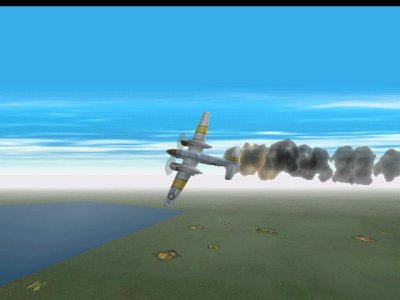 "Hey.. this is a smoke free combat zone!"
17 May 98 Swampy and Crew try to signal distress over Bar... click pic for large version (wallpaper anyone?)
."Beaut of a Day for a 12000+ point run".

17 May 98 Algy and Crew (Bswam & others) go off to cause mayhem. For large JPG click picture - might make great wallpaper: **** For Cam file of this mission, click here. ****
."I'm sorry, were those YOUR hangers?" (The 12000+ point run cont)

17 May 98 Algy puts steel on target.

"Kill for the Ball Turret, Algy! "

17 May 98 Algy's Ball Gunner scores a kill (who WAS that guy!)

"Landing the points".

17 May 98 Algy lands with his 12000+ mission... par for the course, ole chap.

"There is nothing like a Fellow StarKnight Wingman "

17 May 98 Star and Bswam fly into the fray together. For Cam file click here.